The Canadus Power Systems Battery Reconditioner / Desulfator is a patented electronic device that extends the life and improves the performance in all lead acid batteries, including AGM.
The Battery Reconditioner optimizes the designed battery chemistry by applying microsecond voltage pulses during charging needed to break own the naturally forming hardened lead sulfate crystals
May improve fuel efficiency (MPG) and therefore reduce carbon emissions
Reduces no-start incidents
Improves alternator performance
Extends battery life and service life of the electrical equipment
Reduces carbon emissions by minimizing replacement battery manufacturing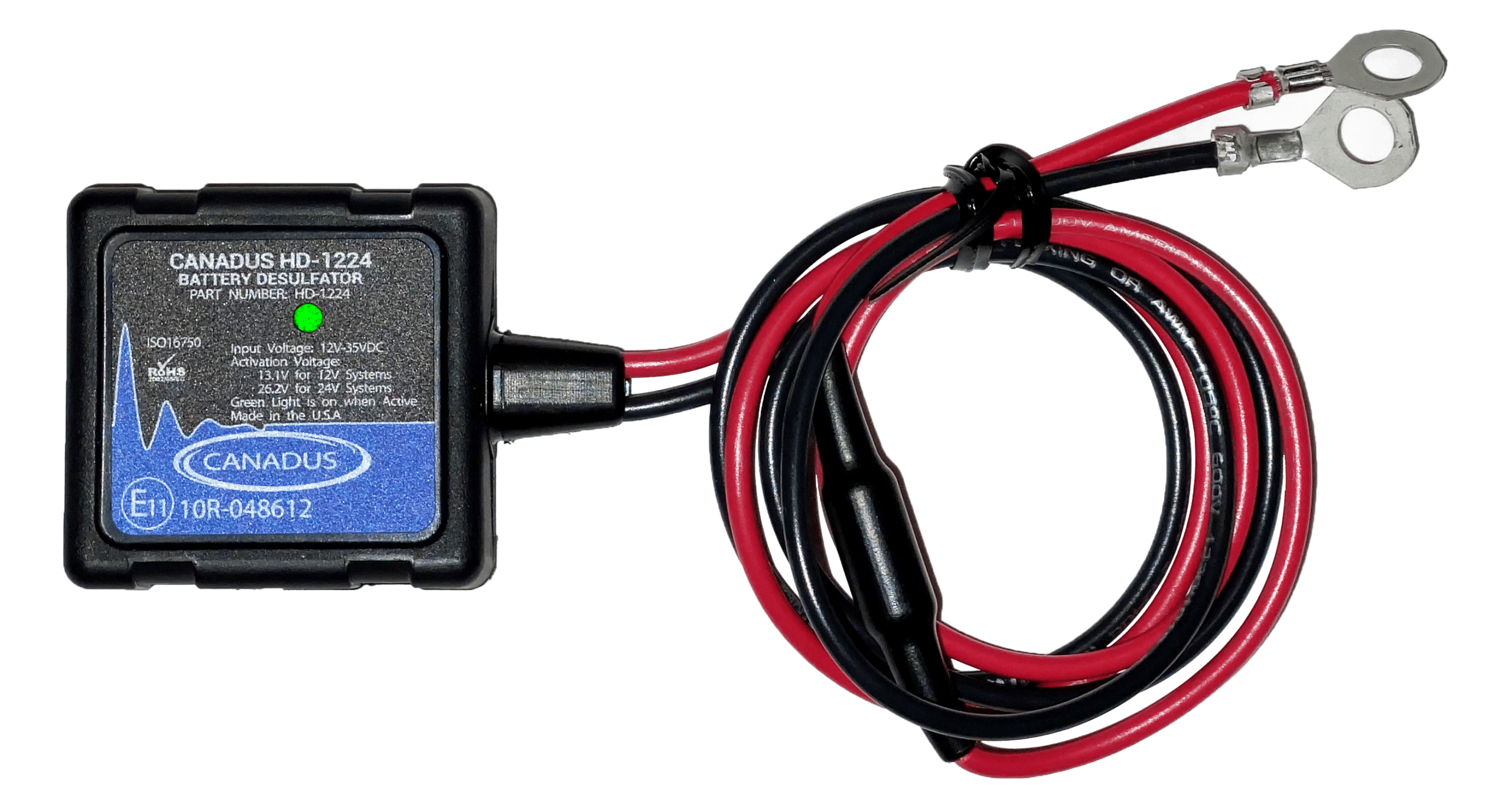 What Happens When You Shoot our Solar Panel With an AK-47
The Battery Reconditioner is OEM approved for Commercial Vehicle installation since 2015 and now standard or optional on the following brands:
Mack Trucks USA
Volvo Trucks North America, South America, Europe
Renault Trucks, Europe
Pierce Emergency Vehicles (Oshkosh USA)
Paccar USA
Pertinent Agreements: Global Purchasing Contract- Volvo Group Trucking OEM US/Europe/South America
Past Agreements: Global Purchasing Contract – Volvo Group Trucking OEM Europe/South America (2015 – 2018)
The patented Canadus Battery Reconditioner is small in size (45mm x 48mm x 17mm), light weight (60 grams) and embodies 15-years of research and testing
For use with both 12v or 24v vehicle electric systems
A single unit can be used with up to eight 12v lead acid or AGM batteries in parallel configuration
Made in USA (Ohio)
ISO 9001 and 14001 certified
OEM Test Standards
Canadus Power Systems is a leader of lead acid battery technology since 2001. Canadus is involved in many design features to extend battery life and communicate battery health in 12, 24, 36 and 48-volt systems. Canadus manufactures its products in the USA.
DUNS : 828801022
CAGE: 1X4W3
NAICS: 334419, 423120, 334515, 336212, 335312, 335912, 811490, 811118
Accept Credit Cards/ Purchase Cards: YES