Construction vehicles DEMAND RELIABILITY when it comes to getting the job done. Ensuring that your machinery and vehicles batteries and electrical system is healthy is a key component of this. The Canadus battery desulfator (reconditioner/refresher) helps to ensure that you are going to have reliable equipment and get the job done as planned. The patented and proven HD-1224 aids by:
Extending construction vehicle battery life by 50-100%, or more
Minimizing costly unplanned downtime
Increasing starter life by 25% or more
Increasing alternator life by 50% or more
Delivering substantial savings in maintenance costs

---
The Canadus HD-1224 design is compact and lightweight, and embodies 15-years of research and testing. It is easily installed in a few minutes, requiring only two connections at the battery terminals, with several simple options to mount the 2.5 oz unit. The manufacturing process has been streamlined to over-mold the circuit board, cables and external fuse, and inject potting compound, all in a single step. The patented HD-1224 is manufactured in the United States from the highest quality components and materials, and is produced in compliance with ISO 9001 and ISO 14001 quality and environmental standards.
The One-System Battery Solution
---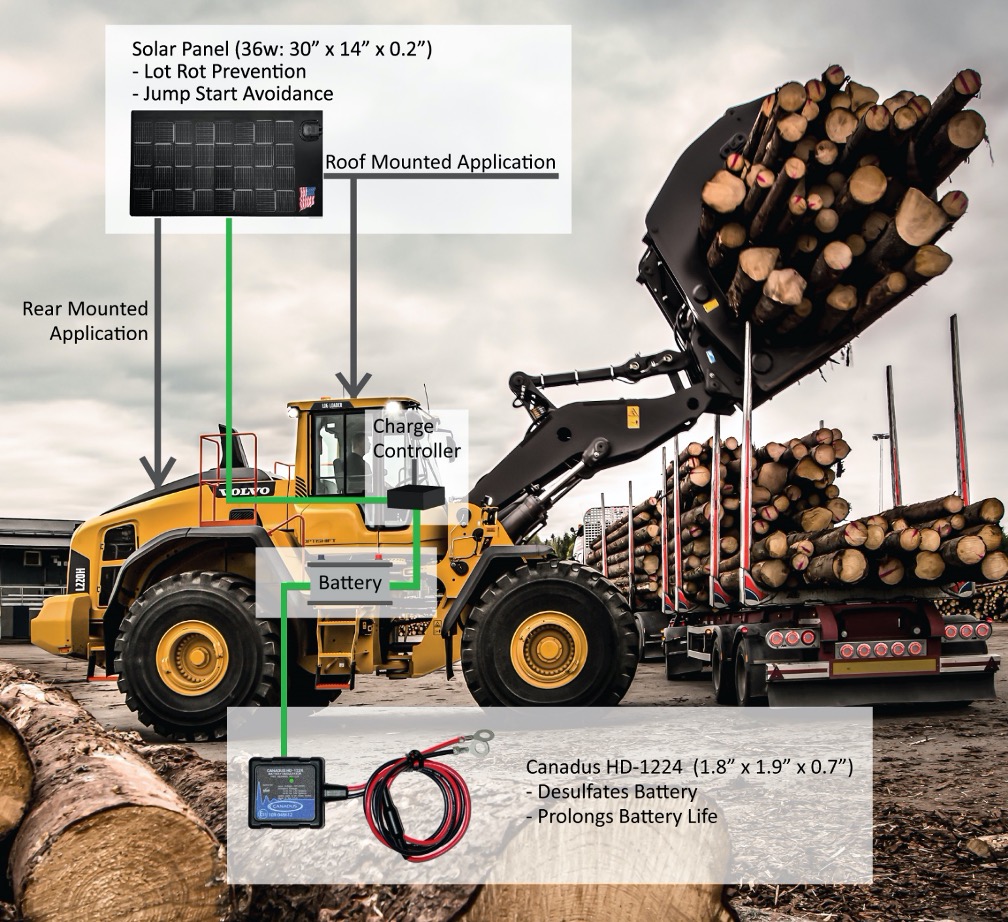 The Canadus One – System Battery Solution for Construction Equipment integrates two proven technologies to create a new method of maintaining batteries in the best possible. This design includes highly efficient and durable solar technology to provide supplemental battery charging with an electronic desulfator to provide balanced battery chemistry. The result is the ability to maintain full charge capacity and longer battery life.
About the Solar Advantage
This specific solar technology was developed and patented by Merlin Solar, San Jose CA. Merlin's panels consist of an innovative pair of metal grids that serve as intra-cell and inter-cell interconnections (see panel design in Figure 2) and enabled panels to continue working if physically damaged in a way that stops similarly sized glass – buss bar panels. The Merlin monocrystalline design assures the highest charging efficiency with the least amount of space requirement on the vehicle. These panels are flexible, rugged and easily attached. When a vehicle is equipped with the appropriate size solar panel for its specific duty, the additional charging capacity added to the standard alternator charging can maintain full battery capacity.